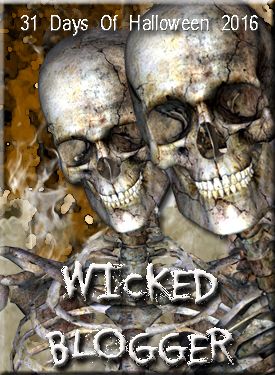 This is the full blog roll...start from Terra...
Terra
Sarah
Alison
Amanda
Lyneen
Susan S
Shell
Susan R

!YOU ARE HERE!


your next stop is...
Lost Coast Portal To Creativity
Monique
Dream In Darkness
Airless Chambers

​


Jessica

​


Michelle
Kelli
Kapree
Genny
Sue
Lisa
​
Well we made it - Day 31 of 31DOH!!
Today I am going to share the Halloween makes
my daughter and I have made over the last couple of days...
First little fridge magnets - small squares of mdf stamped with Black Stazon and coloured with Color Burst powders. They were distresses with 'black soot' around the edges and a small strip of magnetic tape was added on the back...
For these two we used some tiny SU halloween stamps.
I made some Halloween Bunting using fabric that had been in my stash for years ...remember that pumpkin stuff I used the other day? Sophie helped me hang it...
We decided it looked better on the fence rather than the wall...
Here we stamped an SU witch stamp on white tissue and then adhered it to the candle using my heat gun. I place the image in place, wrap it with greaseproof paper and then apply the heat...
One image was attached 'right side in' to make the witch face the other way!
Here I used one layer of a commercial serviette trimmed to size and attached using the heat gun.
Finally pumpkin lanterns...the picture shows my Mum, my Dad, Sophie and me...
Thank you everyone for looking - and commenting!
Thank you so much Leigh, Nan, Mary Lou and Lyneen for joining in my 31DOH Giveaways!
I am going to send all 4 of you a surprise package!!
Please email me your addresses asap to
susanrenshaw0404@gmail.com
However I must thank Mary Lou in particular as she has commented at length each and every day - a huge achievement!! So Mary - you get to choose whether you would like The Hag or one of the minijournals...Let me know...